Stay on Top of Your Health with Text Alerts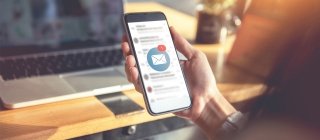 Members will now receive personalized, secure updates, right to your cell phone. Quick access to your personal information so you can understand your benefits is an important part of getting the most from your plan.
When life gets busy, our own health and well-being can sometimes be overlooked. That's why we're pleased to introduce our new secure text messaging, designed to deliver helpful, personalized updates right to your phone. Quick access to your personal information means you can spend more time doing the things you enjoy.
How Does it Work?
Starting with a text message from "86129", you'll receive a secure link where we'll post messages just for you related to your healthcare.
No app to download — all you need to do is click the link, verify it's you by entering your date of birth, and enjoy fast and easy access to information designed to help you improve your health and maximize your health care benefits.
Don't have time to read the messages right then? Click the link when it's convenient for you and easily scroll through the history of our communication with you.
If we don't have a cell phone number on file for you, sign up to receive our text messages.
 

FAQ About Blue Cross Text Messaging
How do I know the text message is really from Blue Cross?
Messages from Blue Cross VT will always come from "86129". 
Is it safe to receive information about my health through text message?
Yes. We've partnered with a third-party to provide these updates. These messages are secure and HIPAA compliant. 
Why was I asked for my date of birth?
The first time you click the link to access your personalized feed we will ask you to authenticate yourself by entering your date of birth. We'll only ask you this once. If you get logged out of the system by clearing your internet cache or for other reasons, we will ask you to re-authenticate by providing your date of birth.
What are the benefits of receiving text messages from Blue Cross?
This complimentary service helps you stay informed and get things done quickly and easily. We will notify you with a text when you have messages that need your attention. After authenticating once with your date of birth, you'll have secure access to personalized care information quickly and easily, right from your phone.
Can I access my messages through a non-smartphone?
The link can only be accessed on a smart device that is linked to a mobile number and can receive SMS. You may access your message feed through any web-enabled device including smartphones, tablets and desktop computers.
How many messages will I receive?
Blue Cross VT will send you messages when there are helpful messages related to your healthcare.
Who can see the messages on my feed?
Just you. Unlike social media platforms designed for broadcast communications, this feed is for private, one-to-one communications.
How do I sign up to receive text messages for Blue Cross?
If you or your employer previously shared your cell phone number with us, you may be one of the first members to experience this new, personalized communication tool. If we don't have a cell phone number on file for you, members can sign up to receive Blue Cross Vermont text messages.
Can I opt out of mobile notifications?
Yes. You are in complete control of this service, and you can stop at any time by texting STOP to 86129. For HELP text HELP to 86129.
Am I charged for any notification?
No. We offers this service at no charge. Depending on your mobile plan, standard message and data rates may apply.