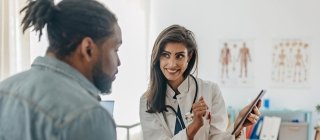 Care coordination payments will continue for 2023 for primary care practices who deliver essential care to members.
Berlin, VT – Blue Cross and Blue Shield of Vermont will continue to support primary care practices who deliver essential care to our members and will continue the per-member-per-month (PMPM) care coordination payments for attributed members for all of 2023. Our primary care providers need and deserve financial certainty. We recognize that making the difficult decision to forego a contract with OneCare Vermont for 2023 should not come at the expense of our provider community.
Blue Cross and Blue Shield of Vermont takes seriously our responsibility to the providers who are the first line of response when our members need care. Primary care providers are partnering with us on initiatives that show clear health improvement for our members in key areas. These interventions strike at the heart of preventable diseases like hypertension and diabetes, showing clearly that when we work together, patients benefit. At the same time, we owe it to our members to tread carefully, and to guard them against premium increases driven by rising hospital budgets, pharmaceutical costs, and state policy decisions for which the expense is getting harder and harder for Vermonters to bear.
As a "quasi-public entity which is operated solely for the benefit of its subscribers"1 Blue Cross VT carries our role as a local non-profit organization that is dedicated to our members through every decision. Access to care is directly tied to the cost of that care for a considerable part of our population—Vermonters are choosing to delay care or forgo it entirely because they simply can't afford it. We continue to forge a balance between compensating providers and increasing member costs.
Blue Cross will continue to move away from fee-for service encounters and help the system transition to new payment models that enable better care delivery that result in tangible quality improvements. Vermonters' limited health care resources must be directed keenly at improving health outcomes.
For more than 30 years, Blue Cross and Blue Shield of Vermont has been enhancing the health and well-being of Vermonters by offering innovative plan options to individuals, older Vermonters, and businesses. Employees are dedicated to developing new ways to support high-quality care, programs, and events that promote wellness. Blue Cross and Blue Shield of Vermont is an independent licensee of the Blue Cross and Blue Shield Association.
---
1 Department of Financial Regulation, Act No. 131 (2022) Report: Pharmacy Benefit Management. 
January 15, 2023