Joshua Plavin, M.D., M.P.H., M.B.A.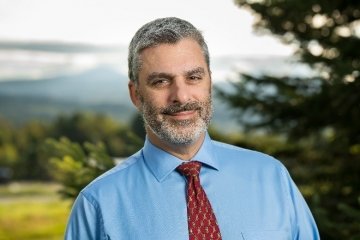 Vice President and Chief Medical Officer
---
Dr. Plavin brings years of clinical experience and people-focused strategies to the leadership of Blue Cross. His belief in a "whole-person" approach to medicine imbues Blue Cross with groundbreaking, human-focused care programs like our integrated care management program. This program helps to improve the health outcomes and overall wellbeing of our members regardless of their diagnosis, age, or background. Furthermore, Dr. Plavin sits at the juncture of medical science and management science – this vantage point provides a unique point of view, one that effects real change and helps improve peoples' lives.
Prior to joining Blue Cross and Blue Shield of Vermont, Dr. Plavin practiced clinically at Gifford Medical Center and served there as attending physician, Chief of the Medical Staff, and Medical Director. He continues to practice clinically on a part time basis. He served on the Vermont Board of Medical Practice, which licenses Vermont physicians, for six years. He is also a Clinical Assistant Professor in Pediatrics for the Geisel School of Medicine at Dartmouth College. Dr. Plavin serves on the board of the Vermont Medical Society Education and Research Foundation; the Board of Directors of Vermont Collaborative Care; and, the Executive Committee of the Vermont Blueprint for Health.
Dr. Plavin received his MD and MPH degrees from New York Medical College and completed his MBA degree through Brandeis University in 2017. He is Board Certified in both Internal Medicine and Pediatrics, having completed his clinical training through the University of Michigan Health System in Ann Arbor, Michigan.
In his free time, Dr. Plavin enjoys teaching students at the Geisel School of Medicine at Dartmouth, volunteering at the People's Health and Wellness Clinic and spending time with his family and their two, four-legged friends hiking through the woods.